FAQ / Questions and answers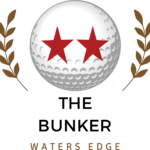 Do I need to own clubs to play?
Not at all, we have Callaway Men's and Women's Strata golf clubs for you to choose from, along with kids clubs for a $6 rental fee.
Do I have to reserve a bay in order to eat in the restaurant?
No you do not. The Bunker's restaurant is open seating and all are welcome.
I haven't played golf before, can I do this?
Most definitely! Toptracer is for absolutely everyone, it's like bowling – only so much better!
There is 9+ of us wanting to book a bay, can we book just 1 bay?
Sorry, our bays max out at 6 people.
What type of games are available through Toptracer?
9 or 18 holes of virtual golf, My Practice, Closest to pin, Longest Drive, Approach Challenge, Points game & Go Fish to name a few.
How long should I book a bay for?
Well that depends on the size of your group, however most games for the average party last 1-2 hours. If your group isn't playing a virtual course, the average time booked is 2 hours. If you are a group of 4+ people playing a full Toptracer 18 holes, this may take up to 4-5 hours.
Can my kids play Toptracer?
Definitely! Kids (under 12) are welcome anytime before 9:00pm as long as they have an accompanying adult with them. Minors must be with a parent or guardian after 9:00pm.
Can I just hit a bucket of balls?
Of course! You can choose a small or large bucket of balls and even the option to add the use of the Toptracer when hitting your bucket for an extra $10 fee if there is a bay available.
How much does it cost to rent a bay?
We charge 3 different rates. $24 dollars an hour (not person) weekdays before 4:00 pm. $36 dollars an hour after 4:00 pm every night except Friday nights and all day Saturdays which are our prime time rates of $48 an hour.
Do I have to have the Toptracer app?
No, you may play as a guest but we recommend downloading the app. It is free and will allow you to play extra courses, including Pebble Beach and St. Andrews, in the Virtual Golf games. Plus you will be included in all games that have a Leader Board.