Amazing
Golf
Food
Events
Fun
Come visit Waters Edge Golf Course and Lakes Restaurant & Pub with your friends, family, or solo for a quality experience that includes exceptional service and a comfortable atmosphere.
Waters Edge Golf Course View From Above
Michigan Golf Live's West Michigan's Best Hidden Gems Courses Volume 1
The five-minute feature on Waters Edge Golf Course can be seen at the 19:56 mark
WE HAVE A MEMBERSHIP FOR YOU!
Waters Edge Golf Course is a public golf facility that lies between Grand Rapids and Lake Michigan in beautiful Fremont, Michigan. Experience the best that West Michigan golf has to offer with our scenic and challenging course.
Formerly Ramshorn Country Club, Waters Edge has been a Michigan golf destination since 1955. Located in the quiet, rolling hills of Fremont, Michigan, Waters Edge features a scenic and challenging 18-hole public golf course.
Prepare yourself for an unparalleled golfing experience. Our course is a pleasure for golfers of any skill level to play. Waters Edge will challenge you while providing a relaxing, picturesque backdrop. We have everything you need to challenge and improve your game. All in all, our goal is to provide you with a quality experience that includes exceptional service and a comfortable atmosphere.
What Our Customers are Saying
Waters Edge Golf Course  continues its commitment to growing the game of golf in the community. Whether you are new to the game or an accomplished player, the facility has something to offer. The course provides an excellent challenge for all golfers, along with beautiful views of the surrounding area. With a PGA Teaching Professional on site providing lessons, and the addition of a world class Training Facility, your game is sure to improve. Included on site is Lakes 23, a restaurant providing excellent food, drinks, and friendly family atmosphere. The facility and its hard working staff help to provide what is truly an amazing attraction both locally, and statewide. Exciting plans lie ahead for the property, continuing to add to the experience for all that visit. I am thankful and excited to continue to see familiar faces and new visitors at this wonderful facility for years to come.
Dan Van Boven
ABOUT: Terry Moore
A member of the Golf Writers Association of America, Terry Moore was the founding editor of Michigan Golfer for 18 years and is now a regular columnist and travel writer for it and several other golf websites. His next Masters will be his 36th as a credentialed golf writer. A member of the Michigan Golf Hall of Fame and founder of the West Mich. Golf Show, Moore serves as a Governor for the Golf Association of Michigan and Chair of the Communication Committee. He's also a past co-chair and current member of the Michigan Golf Hall of Fame Committee. Contact him at terry50moore@gmail.com
Terry Moore
The A Postion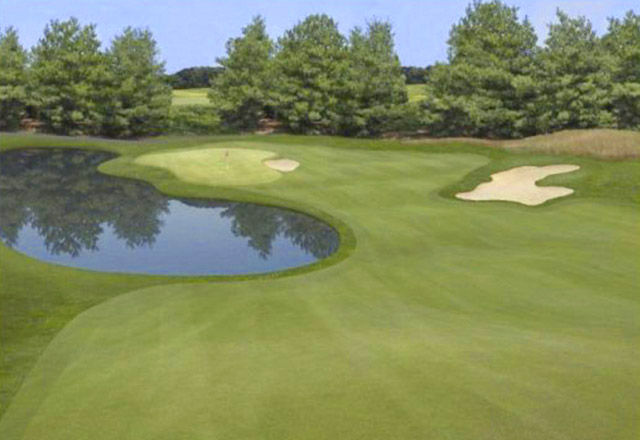 Raymond Hearn Golf Course Designs Wins ASGCA Design Excellence Award for Renovation designs at Waters Edge Golf Course in Fremont, Michigan. A master plan and construction drawings were developed for two new golf holes in order to create room for a new upscale driving range, new putting and a chipping green.
Give the Gift of an Experience at Waters Edge
Shop gift cards for the Golf Course and Lakes 23 Restaurant